Momo Cafe
Photo from Momo Cafe's FB page
This restaurant always catches my attention when I go inside the Eastwood Mall. At last, I was able to eat here with my mom and my friend, Myla.
While waiting for our orders, the friendly waiter gave us a complimentary food. Bread and pimiento cheese. Although they gave it to customers for free, you'll definitely enjoy it because it's appetizing.
For our main dish, we ordered Cripsy Bacon "Carbonara" Linguini. This was my first time too see carbonara topped with fresh egg. If you don't eat fresh egg, you don't have to worry. Since the pasta is served hot, the egg will be cooked afterwards. (Sorry for not having a pic of their carbonara.)
We also ordered clubhouse. Their clubhouse is pretty good too. But I wish they made the bacon crispy. :) It was a little bit tricky eating this one because it has so many layers. So what we did is cut it in half.
For my drink, I ordered watermelon-green mango shake. I am a fan of green mango. But I don't know that mixing watermelon to it will make it an awesome drink. It's a mix of sweetness and sourness.
For dessert, we ordered banana cupcake and dipped fried oreo. Their desserts are okay. I love the banana cupcake itself except for the icing. Although I love sweets, it's just too sweet for me. On the other hand, I wasn't that amazed in their dipped fried oreo. I suggest you should go for other their other desserts.
Photo from my friend
Overall, I loved eating in Momo Cafe. Their food is great as well as their service. If you want to eat here, prepare Php 400-500. And if you eat like a cat like me, then their serving is good for 2-3 persons.
Hong Kong Disneyland
I am a fan of Disney ever since. So going to Disneyland is a dream come true! It's like I'm inside a fairytale. Everything seems so magical. I really wanna go back here.
Five years ago, we visited Disneyland. During that time, there were only four parks: Mainland USA, Tomorrow Land, Fantasy Land and Adventure Land. Right now, they added two more parks: Toy Story Land and Grizzly Gulch. So there is a big reason why we must come back here.
One of the main attractions here is the parade. Be sure to check the time of the parade and remember to go to the Main Street early so you'll have a clear view of it. As far as I remember, it was around 3PM.
---
Recommended Shows and Rides:
---
*Tomorrow Land*

- Stitch Encounter: It's a very funny show and you can interact with Stitch. (Taking pictures and videos inside is not allowed here.)
- Space Mountain: It's an indoor roller coaster with a twist. You feel like you're in the outer space!
- Buzz Lightyear Astro Blasters: If you enjoy shooting, this one is for you!
- Autopia: I recommend this for kids only. At first I was excited to drive the mini car but I was disappointed because all you have to do is to step on the gas(?) for you to move.
---
*Adventure Land*
- Jungle River Cruise: Discover the river filled with mysteries and surprises. The animals look like real. And the other effects like fire were awesome.
- Festival of the Lion King: A must see attraction! For me, this is the best show.
- Rafts and Tarzan's Tree House: Sadly, we we're not able to go here.But they say it's really nice inside the tree house.
---
*Fantasy Land*
- Snow White Grotto: Why not spend a few minutes to have a picture with Snow White?
- Mickey's PhillarMagic: 4D Attraction. Why 4D? It's a 3D with physical effects. Some of the effects are the wind, rain at the smell of the food! (Taking pictures and videos inside is not allowed here.)
- The Golden Mickeys: It's a musical show about some of your favorite Disney characters. (Taking pictures and videos inside is not allowed here.)
~ ♥ ~ ~ ♥ ~ ~ ♥ ~
After watching the shows, riding the rides, and eating early dinner; end your stay in Disneyland by watching the spectacular fireworks display. I uploaded the two videos in Youtube. (link 1, link 2)
Note: Other pictures are from my cousin.
Thunderbird Resorts - Poro Point
Since we were in La Union, we went here to check out the place. We didn't do anything except take pictures.
Thunderbird Resorts is located in Poro Point, La Union. Once you step inside, you will feel like you're in a different country. It's like the you're in Santoniri, Greece.
The place is great. They have nicely designed building. But when it comes to the beach, it's so small for me. So if you're a fan of beach, I don't recommend this to you.
Overall, if you have extra money to spend, don't hesitate to go here and experience Greece-like.
~ ♥ ~ ~ ♥ ~ ~ ♥ ~
For day tour, you can check their rates here.
Seriland: Land of Happy Thoughts
Seriland is a indoor theme park inside the Manila Ocean Park Building. This is the first theme park in the Philippines that was developed by Koreans. It offers Mirror Maze, Trick Art Museum, 3D Cinema Plus and Kid's Paradise. Both children and adults will surely enjoy here.
Attractions:
1. Mirror Maze
It's a labyrinth of multiple glass panes. Upon entering, we were given gloves so we won't leave hand prints on the mirrors. I really like this attraction but it's so small. The moment when you feel you are already lost, you'll find the exit. I wish they will make it bigger.
2. Trick Art Museum
It's a gallery of 3Dimensional art painted by Korean artists. It's a great place for taking funny but amazing photos. Remember that there is a time limit so you need to act fast. I don't know if they always give time limit. Maybe it depends on number of people waiting outside.
3. 3D Cinema Plus
You can watch a 15-minute short film in 3D. There's a lot of choices to choose from. Well, it's a little bit 4D because there is a physical effect like the wind.
~ ♥ ~ ~ ♥ ~ ~ ♥ ~
Their rate is Php150 per attraction. For me, it's not worth it. It's too expensive for a small attraction like this. We were able to go here because we purchased an online deal. So, I suggest you wait for the deals before going here. :)
Location:
2nd Floor Manila Ocean Park,
Behind Quirino Grandstand,
Luneta Park, Manila, Philippines 1000
Suman of Sauceria!
Island Hopping in Bohol
For our third day in Bohol, we went on Island Hopping and Dolphin Watching. We woke up around 5am since we need to meet the boat's captain by 6am so we could see the dolphins.
---
Dolphin Watching


Whenever the dolphins appear, we chased them. It was very exciting but we could not get close to them because they went under the water once we're near.
---
Balicasag Island
After dolphin watching, we went to Balicasag. We did snorkeling and fish feeding here. Since they did not tell us to bring bread beforehand, we fed the fishes otap and soda crackers. So if you want to feed the fishes, be sure to bring bread!
We ate our lunch here, we brought packed lunch. But if you didn't bring any, don't worry because there are stalls there where you could order food.
---
Virgin Island

And our last stop was the Virgin Island. We really enjoyed our stay here. Besides of swimming, it's a perfect place for a photo shoot. hehe. We also bought our pearl earrings here. We got three pairs for only Php 100. We got this discount because we bought nine pairs.
~ ♥ ~ ~ ♥ ~ ~ ♥ ~
For boat rentals, click here.
Tokyo Bubble Tea
After watching One Million Yen Girl, we went to SM Megamall to have dinner. Before we leave, we decided to drop by at Tokyo Bubble Tea.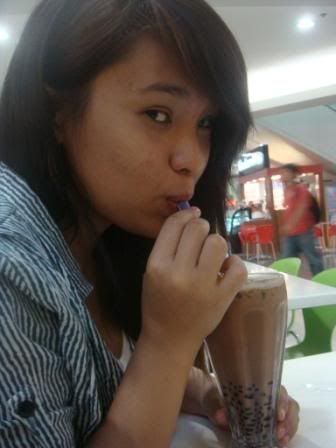 My friend, Janica, ordered chocolate milkshake.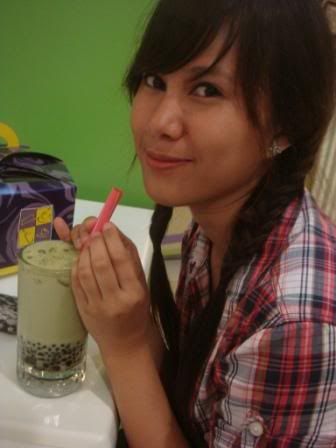 I love green tea so much that's why it was my order.
Their green tea is so yummy ♥
I miss drawing. ♥
For me, those little monsters are really cute.